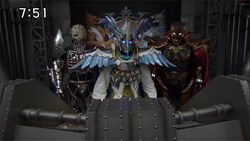 The Space Empire Zangyack (宇宙帝国ザンギャック, Uchū Teikoku Zangyakku?, [Note 1]) are the fictional antagonists of the thirty-fifth Super Sentai Series Kaizoku Sentai Gokaiger, that battle the Gokaigers in order to invade and conquer the Earth.
Fictional history
Zangyack's forces are a race of aliens who have conquered and destroyed untold numbers of planets across the galaxy and plan to invade Earth for their emperor Akudos Gill. The first invasion failed due to the interference of 34 Super Sentai teams in the Legend War (レジェンド大戦, Rejendo Taisen?). The second, current, invasion is being overseen by the emperor's son Warz Gill from his chariot-like flagship Gigant Horse (ギガントホース, Giganto Hōsu?), stationed between Earth and its moon, with an armada at his command. After the Gokaigers killed off Warz, the Zangyack made the capture and execution of the Gokaigers their top priority to the point of giving Captain Marvelous an "Unlimited Reward" bounty. They were perceived a threat great enough for the emperor himself to come and oversee the invasion personally. A month after Akudos Gill's death as well as the destruction of the majority of their military forces, which were mobilized to Earth, the Zangyack Empire begins to dissolve with its universal reign coming to an end.
During the events of Kamen Rider × Super Sentai: Super Hero Taisen, Captain Marvelous abandons the Gokaigers and takes over Zangyack as he assumes the title as their emperor and renames it "Dai-Zangyack" (大ザンギャック, Dai Zangyakku?), formed from the remnants of the dissolved Zangyack Empire and the conglomeration of all Super Sentai villains, in order to take down the Kamen Riders to obtain their Great Powers, and the Dai-Shocker group led by Tsukasa Kadoya. However, Dai-Zangyack turns on Captain Marvelous and joins forces with Dai-Shocker to destroy Super Sentai and the Kamen Riders.
The currency of the Zangyack Empire, and all planets that fall under its control, is the Zagin (ザギン?, Template:Zagin). The exchange rate from the Zagin to the yen is Template:Zagin1 to Template:JPY360.
Gill Family
The Imperial family who rules the Zangyack.
Akudos Gill
Emperor Akudos Gill (皇帝アクドス・ギル, Kōtei Akudosu Giru?, 37, 41-51) is the leader of the Zangyack Empire and the father of Warz Gill. Though an emperor, Akudos carries the AkudoSword (アクドソード, Akudosōdo?) with him nonetheless. After his first Earth invasion was destroyed by first thirty-four Super Sentai teams, Akudos sends Warz with a second invasion force. However, though the Super Sentai teams were no longer a threat by then, Akudos sent Damarasu to oversee Warz's actions out of a lack of confidence in his son's abilities. Eventually, he sends two of his Dogomin to deliver the Great Warz for the Gigant Horse crew to use so that the invasion gets back on track. However, when news of Warz's death reaches him, Akudos arrives to the Gigant Horse with his personal fleet to assume full command of the invasion while making examples out of both the Gokaigers for their crimes while giving Damarasu a chance of redeeming himself for failing to protect Warz. But after seeing the Gokaigers destroy Damarasu, he decides to halt the invasion and refocus his full attention on the pirates by calling all Zangyack forces to Earth.
Once his forces are gathered, using Insarn to weaken the Gokaigers, Akudos proceeds to send the entire fleet down to Earth with the intent of killing the pirates and executing planetary genocide. But when Gokai Red and Gokai Silver manage to ram into and take control of the Gigant Horse with the Free Joker, and proceed to wipe out the entire invasion fleet surrounding it before sinking it, Akudos battles the Gokaigers, putting up a tough fight and withstanding most of their attacks. However, Akudos is finally destroyed by the Gokaigers using Gokai Galleon Buster's Rough Wave at contact shot range. With his only heir and the majority of his military force all dead, the remaining branches of the Zangyack Empire across the universe begin to splinter and dissolve.
However, he was revived, along with his son Warz, in Super Hero Taisen as one of Marvelous's top commanders. Once his true colors are revealed, Akudos is enlarged by the Gigant Horse and fights Go-Buster Oh with his son before being destroyed by the forming Big Machine.[1]
Akudos Gill is voiced by Shinji Ogawa (小川 真司, Ogawa Shinji?).
Warz Gill
Commander Warz Gill (司令官ワルズ・ギル, Shireikan Waruzu Giru?, 1-38) is the young commander of the Zangyack invasion forces who is Emperor Akudos Gill's son, thus attempting to earn his father's respect while showing himself as one of elite status and not the idiotic brat that he and the royal court see him to be. This intent to prove himself gave Warz a paranoid attitude, making him frequently hysterical when his missions are failures and reacting to them by covering his tracks and lashing out at the Gormin. Warz also expresses anger towards Damarasu, knowing he was deployed by his father to make sure he succeeds. Warz Gill is also known to be petty, knowing if a stack of cash is lacking any notes just by weighing with his hands, so precise to the point where he would know even if just one note is lacking. Eventually, Warz learns of the Greatest Treasure the Gokaigers are looking for and believes it to be of little consequence, to the point of ignoring it to Damarasu's dismay. However, after an invasion he personally oversees is called off by his followers after a stray shot from Gokai Red wounds his left arm, a furious Warz vows to kill the Gokaigers with extreme prejudice for his injury. Eventually, when the Zangyack's strongest war machine Great Warz is given to his crew, Warz decides to make his move to prove himself capable of conquering Earth and easily defeats Goujyu Gokaioh. Confident after his victory, Warz sends Barizorg out to defeat the other Gokaigers. Enraged at the discovery of Barizorg's death, Warz redeploys back to Earth in the Great Warz over Damarasu's objections. However, the Great Warz is destroyed by Kanzen Gokaioh, killing Warz as a result.
Warz is revived during the events of Super Hero Taisen, serving as one of Marvelous's top commanders. he praises Marvelous as the leader of Dai Zangyack but Marvelous insults him by saying Warz Gill could have defeated the Gokaiger if he wasn't such an idiot, which dismays Warz Gill. However, once his true colors are revealed, Warz is enlarged by the Gigant Horse and fights Go-Buster Oh with his father before he is grabbed by the forming Big Machine and crushed to death.[2][3]
Warz Gill is voiced by Hirofumi Nojima (野島 裕史, Nojima Hirofumi?).
Great Warz (

グレートワルズ

Gurēto Waruzu, 37-38): Zangyack's strongest war machine, Great Warz is sent to the Gigant Horse crew by Emperor Akudos Gill to get the invasion back on track. An extremely agile mecha, Great Warz is armed with the Warz Arrows (

ワルズアロー

Waruzu Arō) on its forearms. Its ultimate attack is Warz Guilty (

ワルズギルティ

Waruzu Giruti), a powerful beam attack fired from its torso.[4]
Bacchus Gill
Bacchus Gill (バッカス・ギル, Bakkasu Giru?) is the provisional commander of the Zangyack Empire and the main antagonist of Tokumei Sentai Go-Busters vs. Kaizoku Sentai Gokaiger: The Movie, usually seen drinking sake most of the time. As the last living relative of his uncle Akudos Gill, Bacchus is bent on restoring the Zangyack Empire to its former glory, enlisting the aid of the Vaglass in search of phantom Ranger Keys and gain the Grandest Power in the Universe. Ultimately, after drinking his sake to enlarge himself, Bacchus ends up being destroyed by Go-Buster Lioh and Gokaioh as Gao Icarus and DaiBouken.
Bacchus Gill is voiced by Takaya Hashi (土師 孝也, Hashi Takaya?).

Damarasu
Chief of Staff Damarasu (参謀長ダマラス, Sanbōchō Damarasu?, 1-43) is known among Zangyack as both the empire's "Strongest High Ranked Soldier" (最強格の戦士, Saikyōkaku no Senshi?) and as "the Strongest Man in the Universe" (宇宙最強の男, Uchū Saikyō no Otoko?) due to his skills a general, strategist and warrior. He carries the DamaraSword (ダマラソード, Damarasōdo?) whose blade he energizes to execute powerful attacks and has concealed the DamaLaunchers (ダマランチャー, Damaranchā?), machinegun arms, under his cape. He is ordered to accompany Warz Gill by Akudos Gill and assist him as his second in command, questioning his decisions if he feels that he needs to. Unlike the others, Damarasu expresses curiosity on why the Gokaigers are even on Earth and uses the Sneak Brothers to learn the pirates' intentions on Earth and also hires Basco Ta Jolokia to take out the Gokaigers. However, though he believes crippling the Gokaigers' chances of unlocking their Ranger Keys should be a priority, his suggestion is ignored. Despite his attempts to convince Warz not to pilot the Great Warz before Kanzen Gokaioh destroys it, Damarasu ends up recovering the prince's corpse from the wreckage. Soon being relieved of his position and sent to the brig by Akudos Gill for failing to protect Warz as commanded, Damarasu is given a chance to redeem himself by personally executing Captain Marvelous. To that end, Damarasu forces Basco into helping him carry out the task. Though Damarasu overpowers the remaining Gokaigers and captures Captain Marvelous, a combination of Doc's rescue attempt and Basco's treachery leaves Damarasu wounded as he battles the Gokaigers. In the end, Damarasu is destroyed by Kanzen Gokaioh's Gokai Kanzen Super Burst.[5][6]
Damarasu is voiced by Kōji Ishii (石井 康嗣, Ishii Kōji?).
Insarn
Development Technical Officer Insarn (開発技官インサーン, Kaihatsu Gikan Insān?, 1-49) is Zangyack's evil scientist, her desire to make a name for herself as the greatest scientific mind in the universe. She supplies the Action Commanders under Warz with powerful weapons and modifications and able to fight with an energy whip from her Operation Magnum (オペレーションマグナム, Operēshon Magunamu?) tool and poisoned missiles build in her Shoulder Catapult (ショルダーカタパルト, Shorudā Kataparuto?) armors. Using a special gun-shaped controller, she normally fires the Gigant Horse's enlargement cannons to resurrect defeated Action Commanders and make them grow giant. She rarely appears on Earth save when she falls in love with Kyousuke Jinnai and causes a series of bizarre events that end with her love redirected to Action Commander Jerashid until his defeat by Shinken Gokaioh and asked for him to be jettisoned. Her disdain toward Jerashid grew after finding him living with humans to the point of utter disgust. She seems to be popular with the male Action Commanders as even Action Commander Satorakura Jr. asked her to marry him when his mission was complete to which she bluntly refused. Later, after finding that she has no place in the Zangyack, Insarn decides to go after the Gokaigers in the Great Insarn to prove her worth to Akudos. Forced to eject when her robot is destroyed, Insarn battles the Gokaigers before being hit by the Gokai Galleon Buster's Rising Strike. Insarn is livid of her fate before she explodes.[7][8]
Insarn is voiced by Kikuko Inoue (井上 喜久子, Inoue Kikuko?).
Great Insarn (

グレートインサーン

Gurēto Insān, 49): Insarn's giant robot that she uses to battle the Gokaigers. Like her uniform, Great Insarn is colored green. The torso is designed to resemble her face. Great Insarn's arsenal consists of the InThunder (

インサンダー

Insandā) energy beam attack fired from its chest and a protective barrier. Literally disarmed by Gokaioh using the Great Powers of the Changemen and the Maskmen before being destroyed by Gokaioh's Gokai Samurai Slash.[9]
Barizorg
Special Duty Officer Barizorg (特務士官バリゾーグ, Tokumu Shikan Barizōgu?, 1-38) is a cyborg whose whole body is mechanized and completely loyal to Warz Gill. He speaks very little other than saying, "Yes, boss," to Warz Gill's orders, unless questioned by others or when the situation deems necessary for him to speak. He was originally Sid Bamick (シド・バミック, Shido Bamikku?), a senior officer and Joe's comrade while he was with the Zangyack. However, when he committed treason against the Zangyack by freeing the imprisoned Joe and covering his escape, Sid was converted by the Zangyack scientist Zaien into his current form with his pre-cyborg memories and personality erased save for his swordsmanship. Though he learns the truth about himself, Barizorg's programming makes him consider the new information to be of no importance. After Goujyu Gokaioh is defeated by the Great Warz, Barizorg hunts down Joe and battles him again. However, despite his superior skills, Barizorg is ultimately killed. After Barizorg's death, Sid appears to Joe in spirit, acknowledging and commending Joe for his efforts in both saving his (Sid's) soul and chasing after his own dream, which finally gives Joe closure.[10][11]
In the Kodansha Special DVD Kaizoku Sentai Gokaiger: Let's Do This Goldenly! Roughly! 36 Round Gokai Change!!, Barizorg's body is renamed Karizorg (カリゾーグ, Karizōgu?, "Kari" meaning "Temporary") by Insarn, who unsuccessfully attempts to fuse Gai into the empty shell; instead, she fuses Captain Marvelous and Gai together. She also fuses Karizorg with a cat to form Nyarizorg (ニャリゾーグ, Nyarizōgu?) before reversing the failed process. During their battle with the Gokai Red/Gokai Silver hybrid, Insarn fuses Karizorg with a Zugormin to form Zugozorg (スゴゾーグ, Sugozōgu?), which is destroyed by Gokai Red Gold Mode before the Gokaiger hybrid recovers Insarn's gun to reverse their fusion.
Barizorg is voiced by Gaku Shindo (進藤 学, Shindō Gaku?), who previously portrayed the Eagle Sazer Ad in Chousei Kantai Sazer-X. Shindo also portrays Sid Bamick. Karizorg is voiced by Tomokazu Seki (関 智一, Seki Tomokazu?).
Dairando
Dairando (ダイランドー, Dairandō?, 41-51) is a member of the Imperial Guards, accompanying Akudos Gill to the Gigant Horse and becoming the invasion force's new second in command. A cocky and arrogant figure in personality, Dairando loves to have fun and treats his fights like a game. He often spurts out English words in his dialogue and uses the catchphrase, "Choi!" (ちょい?) in his sentences. Dairando also carries the Giant Hammer (ジャイアントハンマー, Jaianto Hanmā?) that he enlarges to execute his hammer attack. Once Insarn is killed of by the Gokaigers, Dairando proceeds to lead the entire Zangyack armada on the Gokaigers. Though having the upper hand at first, Dairando is mortally wounded by the Gokaigers when distracted by seeing the armada being wiped out before being destroyed by the Gokai Galleon Buster's Rising Strike.[12]
Dairando is voiced by Masashi Ebara (江原 正士, Ebara Masashi?).

Gormin
The Gormin Sailors (兵隊ゴーミン, Heitai Gōmin?) are footsoldiers of Zangyack armed with weapons provided by Insarn. They are dropped from Zangyack ships through chandelier-like devices that magnetically hold them by their flat, metallic heads.[13]
In Kaizoku Sentai Gokaiger vs. Space Sheriff Gavan: The Movie, the Gormins can disguise themselves as the soldiers of Galactic Union Patrol, under the command of Makuu Prison Chief Ashurada, who is disguised as Weeval.
Zugormin
The Zugormin Non-Commissioned Officers (下士官スゴーミン, Kashikan Sugōmin?) are the officers armed with beam cannons who lead the Gormin to battle and support the Action Commanders. They can transform into jet fighter configurations that link up into a hovercraft for an Action Commander to ride on, and can reconfigure their lower bodies into motorcycle forms.[14]
The Zugormin are voiced by Yoshimitsu Shimoyama (下山 吉光, Shimoyama Yoshimitsu?, 1), Kenichiro Matsuda (松田 健一郎, Matsuda Ken'ichirō?, 10), Yasuaki Takumi (内匠 靖明, Takumi Yasuaki?, 10), Kensuke Tamura (田村 健亮, Tamura Kensuke?, 12), and Ibuki (勇吹輝?, 34).[15]
Dogomin
The Dogomin Bodyguards (親衛隊ドゴーミン, Shin'eitai Dogōmin?) are Akudos Gill's red-armored bodyguards, armed with spears and fireball cannons and are much stronger than the Zugormin. They are always seen in pairs, and can perform a quick-slashing attack. When both of them cross their spears, they can fire a very powerful attack with a Zangyack logo. Although the Gokaigers were utterly overpowered by them when first encountered, they managed to defeat them, and were able to defeat them easily in subsequent encounters.
The Dogomin are voiced by Kōzō Dōzaka (堂坂 晃三, Dōzaka Kōzō?, 37, 38), Norihisa Mori (森 訓久, Mori Norihisa?, 37, 38), and Ibuki (43).[16]
Action Commanders
The Action Commanders (行動隊長, Kōdō Taichō?) are alien monsters who serve under Zangyack.[17] Some Action Commanders are related to villains from the previous antagonist groups that the past 34 Sentai groups fought, while some of them are successors to the defeated villains. Most of the Action Commanders were ordinary aliens who possessed special talents that were further enhanced by Insarn's modifications.
Other Action Commanders
Muchaburin (

ムチャブリン

): An Action Commander featured on the Kaizoku Sentai Gokaiger Original Album Otakara Box 1 soundtrack. He is armed with the Muchabarrier (

ムチャバリアー

Muchabariā), a force field that is impervious to the Gokaigers' Final Wave Gokai Slash. The Gokaigers, however, outsmart him by changing into different past Super Sentai warriors and destroying the Muchabarrier before finishing off with the Final Wave Gokai Scramble. An enlarged Muchaburin is then destroyed by Gokaioh via Gokai Star Burst. Voiced by Eiji Miyashita (

宮下 栄治

Miyashita Eiji).[44]
Imperial Guard
The members of the Imperial Guard (皇帝親衛隊, Kōtei Shin'eitai?) are the Zangyack elite soldiers who serve Akudos Gill, the Emperor of the Zangyack.
Deratsueiger (

デラツエイガー

Deratsueigā, 11-12): The leader of the Imperial Guard, Deratsueiger is a fearsome swordsman who is sent by Akudos Gill to help Warz Gill in conquering Earth. He manages to hold back all Gokaigers' attacks and is about to kill them until their battle is interrupted when Warz Gill gets wounded. Deratsueiger is later sent back to Earth to call out the Gokaigers and slaughter them all, before he is surprisingly defeated by them. Enlarged to take out his defeat on the city, Deratsueiger is finally destroyed by Shinken Gokaioh.[45] Voiced by Yuichi Nakamura (

中村 悠一

Nakamura Yūichi).
Zatsurigu (

ザツリグ

, 41): One of the Imperial Guards accompanying Akudos Gill to the Gigant Horse, Zatsurigu has the ability to access telekinetic powers with the eye on his chest. He is also known among many in the Zangyack's ranks as the "Destroyer of Worlds" (

惑星の破壊神

Wakusei no Hakaishin) due to the full extent of his powers allowing him to wipe out hundreds of planets that refused to submit to the empire. Among many of the planets he destroyed is Ahim's homeworld Famille, which was incinerated before her eyes after he killed her parents. Arriving to Earth to take out the Gokaigers, Zatsurigu is defeated by Gokai Pink before being destroyed by Kanzen Gokaioh's Gokai Kanzen Burst.[46] Voiced by Hiroki Tōchi (

東地 宏樹

Tōchi Hiroki).
Other members
Great Scientist Zaien (

大科学者ザイエン

Daikagakusha Zaien, 30): A Zangyack scientist who is responsible for Sid Bamick's conversion into Barizorg. Visiting Warz Gill to check up on Barizorg, Zaien agrees to help the prince by capturing physically fit humans for the prince's plan of mass producing more Barizorg-like cyborgs. However, Zaien is defeated by Gokai Blue and then destroyed by Hurricane Gokaioh and Goujyujin.[47] Voiced by Jōji Nakata (

中田 譲治

Nakata Jōji), who previously portrayed Great Professor Bias in Choujuu Sentai Liveman and Sir Cowler in Choushinsei Flashman.
Makuu Prison Warden Ashurada (

魔空(マクー)監獄獄長アシュラーダ

Makū Kangoku Gokuchō Ashurāda): Primary antagonist of Kaizoku Sentai Gokaiger vs. Space Sheriff Gavan: The Movie, serving as the warden of Zangyack's prison in the otherworldly dimension known as Makuu Space. Ashurada is also the heir to the legacy of Don Horror, thus baring a grudge on Gavan for his predecessor's demise. He has six arms and the ability to produce a shock wave with them. Originally, Ashurada's role was to take control of the Galactic Union Police in the guise of the Chief of Space Police Weeval (

宇宙警察総裁ウィーバル

Uchū Keisatsu Sōsai Wībaru) to kill the Gokai Galleon crew before Retsu played on this agenda to expose him. However, Ashurada changes his plan to consume the universe in Makuu Space by stimulating the blood of Don Horror running in his veins by torturing Retsu. However, the Gokaigers save Retsu and destroy Ashurada together with the Gavan Marvelous Dynamic attack. Voiced by Shiro Sano (

佐野 史郎

Sano Shirō), who also portrays Weeval.
Gavan Bootleg (

ギャバンブートレグ

Gyaban Būtoregu): The robot warrior which replicated all of Gavan's abilities, using the combined technologies of the Zangyack and the Space Police. It also has a handgun and the ability to pull an opponent into Makuu Space and access the Makuu Prison's produce the surreal Makuu City security system. It is destroyed by Gavan.
Other antagonists
Los Dark (

ロスダーク

Rosu Dāku): Primary antagonist of Kaizoku Sentai Gokaiger the Movie: The Flying Ghost Ship, the spectral captain of a ghost ship that travels the cosmos while housing the fifteen hundred spirits of various Super Sentai enemies. Though possessing the God Eye, his status as a spirit keeps him from using the item's power to make his desire to rule the universe a reality. To remedy it, Los Dark preys on would-be thieves and has them killed so he can use their life force to live again. However, intended to complete the resurrection, the Gokaigers foil Los Dark's scheme as he is finally destroyed in Fake Gokaioh along with his vessel. Voiced by Kenji Utsumi (

内海 賢二

Utsumi Kenji).
Fake Gokaioh (

にせゴーカイオー

Nise Gōkaiō): Los Dark's mecha, which is an imitation of Gokaioh with a larger hat, an eye patch that shoots laser beams, a cape and a large hook in place of the left hand. In addition to the two Gokai Ken swords, Fake Gokaioh is armed with a cannon on its left arm and has a five-barreled cannon in its chest. It heavily damaged by Gokaigers when they summon Variblune, Pat Striker, Dragon Headder, Magi Dragon and Geki Tiger before it explodes and takes Los Dark's ghost ship with it.
Notes
↑ The name "Zangyack" comes from the Japanese word Template:Nihongo3.
↑ Babatcheed's name, like Batcheed, is from the Japanese word for "dirty" (

ばっちい

batchii) and his title based on the word for "President" (

大統領

Daitōryō)
References
External links
Community content is available under
CC-BY-SA
unless otherwise noted.