This is a list of Digimon species that feature in the Digimon Xros War series and thus have no rank. Like DNA digivolve, it involves one or more digimon. However, the digifusions will be underneath the dominant digimon or shares the same name (e.g. MadLeomon).
Base Digimon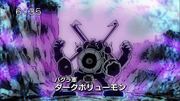 Gumdramon

Arrestramon (equivelent to champion in the digimon card game)
Shoutmon (yellow, 2011 anime)
Shoutmon is a red mini-dragon digimon.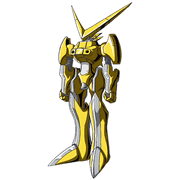 Variants
Shoutmon yellow
Shoutmon (2011 anime)
Shoutmon B
Enhancement
Shoutmon + Star Sword (with Starmons)
Shoutmon + Dorulu Cannon
Shoutmon + Jet Sparrow
Shoutmon Star Wheel (with Starmons)
Xros Digimon
Enhancement
Enhancement
Shoutmon X4 (considered as champion in the digimon card game.)
Shoutmon X5 (equivelent to ultimate in digimon card game)
Shoutmon X7 (mega equivelent in digimon card game)
Enhancement
OmegaShoutmon (equivelent to ultimate in digimon card game)

Shoutmon DX
Enhancement
Starmon Corps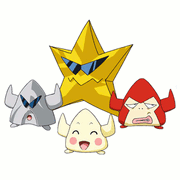 The Starmon corps consists of a group of Pickmons that are led by a Starmon.
Starmon
Chibickmon

Pickmon (Silver White Red)
Dorulumon

Dorulu Cannon
Dorulumon (Starmons)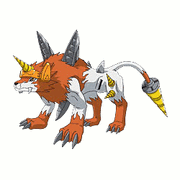 Sparrowmon
Sparrowmon After Burner (with Ballistamon)
Patamon + Sparrowmon
RaptorSparrowmon (digivolved from Sparowmon)
Others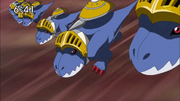 Blastmon
Monitamon
MailBirdramon
Cutemon
Sparrowmon
Weddinmon
Tactimon
Baalmon
Damemon
Ignitemon
HiMugendramon (?)
Dorbickmon
NeoVamdemon
Splashmon
Gravimon
DarkKnightmon
Bagramon
Zamielmon
GrandisKuwagamon Honey Mode
Hi-VisionMonitamon
Tyutyumon
Monimon
Troopmon
ZekleGreymon (digivolved form of Greymon (2010 anime)- fusion of Greymon and metalbirdramon)
MadLeomon
MadLeomon
(シャウトモン)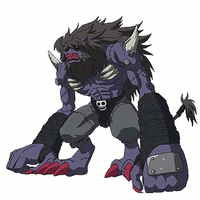 MadLeomon is a corrupt version of Leomon.
Leomon
Armed MadLeomon
MadLeomon (Orochi Mode) (w/ Orochimon)
MadLeomon (Final Mode) (w/ multiple Apemon)
Mervamon
JetMervamon
FusedAncientVolcamon
FusedVolcamon is the digifuse of AncientVolcamon and several Meramon.
Ice Devimon
IceDevimon Enhancement Absorbent
IceDevimon-Daipenmon Enhancement Absorent
Community content is available under
CC-BY-SA
unless otherwise noted.